Nanoemulsions in Foods
From DolceraWiki
Table of Contents
Introduction to Nanoemulsions in Foods
Concept Table
Search strategy
Relevant class codes and definitions (IPC, US, ECLA and F-Terms)
Interactive Taxonomy
Relevant Patents
Sample patent analysis sheet
Assignee analysis and IP activity
Dashboard for assignee classification
Patent-Product Mapping
Relevant articles of Assignee Universities
Abstract
With the rapid technological advances, studies in the field of Food processing have been extended from micro to nano-sized (10 -9 m) particles. Food nanotechnology is rapidly emerging with several innovations in food packaging and nutraceuticals. Nano-emulsions are now being increasingly used for encapsulating bio active compounds and act as transport vehicles in functional foods and probiotic health foods.
Though micro-emulsions have found a vast application in food processing, in recent years nano-emulsions are emerging out with better advantages when compared to micro-emulsions, as described below:
• Size of the particle – 5 to 100 nm
• Thermodynamically stable
• Transparent emulsions- suitable for transparent foodstuffs like beverages
• Continuous self-assembly with hydrophilic and hydrophobic portions to maintain stable emulsion state
• Uncharged particles – no surface coalescence
• Very small size – no sedimentation or creaming
• Increased stability- increased bio availability Kim et al.(2010)
In general, Nano-encapsulation involves the incorporation, absorption or dispersion of bioactive compounds in small vesicles with nano (or submicron) diameters. The incorporated bioactive compounds may be protected against degradation, have improved stability and solubility (e.g., solubilizing a hydrophilic compound in hydrophobic matrices and vice versa) and therefore might increase bioavailability and delivery to cells and tissues.
Dolcera report focuses on:
Finding the relevant patents encompassing the research in the fast-growing area of nano-emulsions in foods
The report highlights year-wise patent activity along with the key industrial players in the field
The different Companies have been categorized based on their position in the value chain
A comprehensible result in the form of Dolcera dashboard has been given. The dashboard links the companies in each category to their patents, hence making an interactive platform for analysis
Companies have also been segregated based on their geographical distribution
Dolcera has analyzed 1398 patents. Close to 400 relevant patents related to Nano-emulsions in foods, covering around 17 countries were then analyzed in detail
Furthermore, patents have been mapped to commercially available products produced by the respective assignees and other licensees
The report also highlights different Universities and Research Institutes active in the research of the said technology area, hence pointing out opportunities for Industry tie ups.
Some key findings:
a. The major players in the technology:
Top Assignees


b. Country wise patent statistics:


c. Year wise IP activity:


Class Based Taxonomy
This taxonomy is based on top IPC/ECLA classes related to Nanoemulsions.
Flash plugin or Javascript are turned off. Activate both and reload to view the mindmap


Interactive Dolcera Dashboard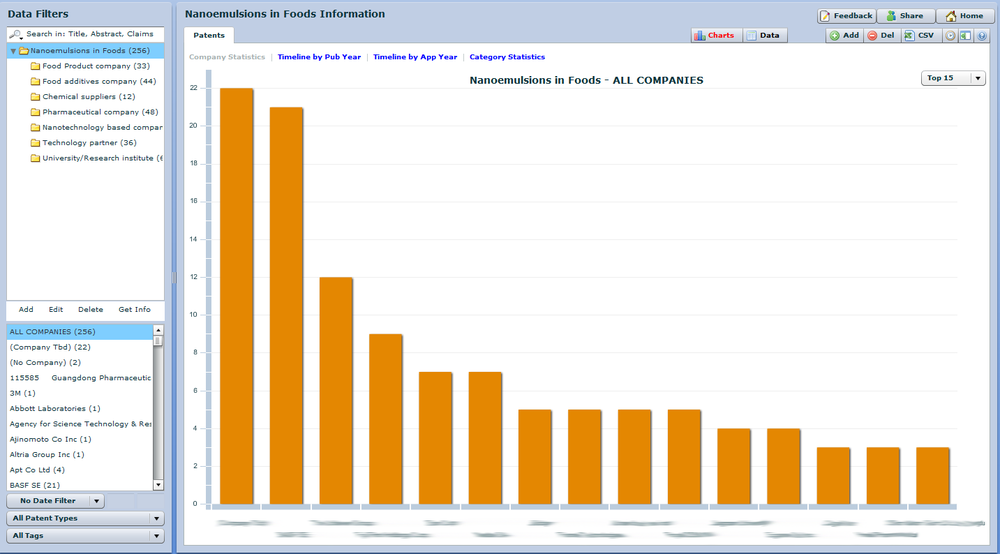 Interested in the analysis?
Contact us for the complete report
Dolcera can also provide a comprehensive report customized to your needs
Note: Now you can add an online interactive Dashboard that shows patents of Nanoemulsions in food, cited articles and literature, assignees, classifications and various other analyses to your purchase. Contact info@dolcera.com For a custom report, please write to us at: info@dolcera.com